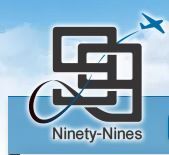 In 2008, the East Canada Section of the Ninety-Nines initiated a stamp project in order to celebrate Canadian women pilots representing various flying careers.
Each year, through Canada Post's Picture Postage program, we produce a stamp which can be used as regular letter postage throughout Canada. All stamp purchasers receive a one page bio which they are encouraged to copy and insert in mail when they use the stamps. Stamp users may purchase sheets of 50 or booklets of 12, depending upon how many you use. Souvenir seekers may prefer a keepsake sheet (for framing) or commemorative envelopes (first day covers).
Please note that these stamps cannot be purchased at Canada Postal outlets but are available at canadian99s.com/stamps/
The first Women's cross-country Air Race was held in 1929 from Sunday, August 18 to Monday, August 26. Nineteen women flew solo from Santa Monica, California to Cleveland, Ohio - a distance of over 3,000 statute miles or 2,600 nautical miles.
By the end of the race most of these women had developed a comradeship which led to the formation of the Ninety-Nines on November 2, 1929, named for the number of its charter members. During the past 90 years it has grown to an organization of over 6,000 members in several different countries. Thus, in 2019, we celebrated the 90th anniversary of air racing and the formation of the Ninety-Nines!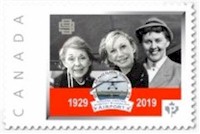 On this, the Air Race Classic Commemorative stamp, we have chosen the three Canadian women pilots who have flown in the most air races - Dorothy Rungeling, Adele Fogle and Daphne Schiff.