From Terry Baker: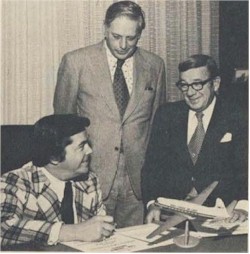 Found in Horizons #411 from May 1974.
Era ends with Viscount sale
Signatories to the Viscount sale were, from the left: Robert Pierson, United Aviation Services; Russel Scrim, Executive VP, Beaver Enterprises and President Ralph Vaughn.
The last 24 of the Company's Viscounts have been sold to two Montreal firms in an agreement signed last month.
The total package being sold to United Aviation Services Ltd., and Beaver Enterprises Ltd., also includes one simulator, spare parts including engines and propellers, and all applicable ground equipment.
The aircraft will be delivered to their new owners in phases to last over a one-year period,
The sale of the British-built aircraft marks the end of an era in North American aviation. The Company, then Trans-Canada Air Lines, put Viscounts into service on April 1, 1955 on the Montreal-Fort William-Winnipeg route. It was the first North American carrier to operate turbine-powered aircraft, thus setting the stage for the dawn of the jet age.
In all, the Company purchased a total of 51 of the mainstay of the fleet in the late 1950's and early 1960's.
The last Viscount flights will take place on schedule April 27 on the Sault Ste. Marie - Toronto, Montreal - Ottawa-Val d'Or return, and the Montreal - Quebec City - Fredericton - Saint John - Moncton - Halifax return routes.