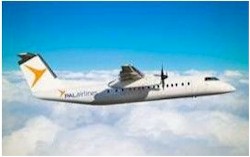 PAL Airlines, a Newfoundland-based airline, will service the Fredericton International Airport with direct flights to Deer Lake and St. John's, starting May 31, 2021.
PAL Airlines announced it would offer three weekly flights to both cities, marking the first time Fredericton has ever had direct flights to Newfoundland.
"This is a long time coming... we're confident there's a demand for this," said Fredericton Airport CEO Johanne Gallant. "We're really pleased to see that PAL Airlines is willing to take this on."
The airline will also offer three weekly direct flights from Fredericton to Ottawa and Halifax, beginning August 2, 2021.
Source: MSN.com