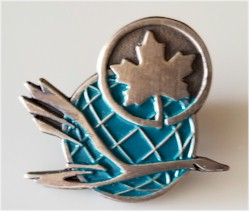 Thanks to all of you for another excellent NetLetter.
I really look forward to receiving it particularly in these different times we live in. I found this pin amongst my other Air Canada uniform pins and I wonder if anyone knows where it's from.
Thank you all again for a great job!!
Lauraine Pomerleau,
AC flight attendant 1971-2001
Editor's Note from Ken Pickford:
The pin is related to the AC/Canadian Airlines merger, I would guess around the time they started code-sharing before the merger was final.
The "Proud Wings" livery first appeared on a 747-400 in January 1999, with a return of the Canada Goose used by CP in the 1950's & 60's prior to the change to CP Air branding in 1968.
That livery only appeared on about 15 mainline aircraft plus 2 Canadian Regional Dash 8's. They stopped the repainting when the deal with AC was announced, with CP becoming an AC subsidiary in late December 1999 and fully merging January 1, 2001.
---
From NetLetter editor Wayne Albertson:
Don McMartin's submission for the 'Readers' Feedback section reminded me of my visit to the Evergreen Aviation & Space Museum at McMinnville, Oregon in 2014.
Pictured below are Howard Hughes' Spruce Goose with a replica of Charles Lindbergh's 'Spirit of St. Louis' in the foreground. The original Spirit of St. Louis is in the National Air and Space Museum in Washington, D.C.