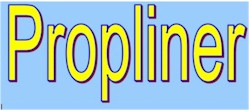 Reproduced with kind permission of the "Propliner" magazine, a popular aviation magazine in the U.K. dedicated to propeller driven aircraft.
Website: www.propliner.co.uk
Following the North Star story in NetLetter #1463, there is one story left to relate and concerns CF-TFM.
The North Star story held one final twist. All but one of the aircraft left in the UK were scrapped, but one example achieved a level of notoriety that has barely been matched since.
CF-TFM was in store at Coventry until November 1963, when it was announced that the North Star was one of four aircraft destined for operation in Liberia and had been sold to a gentleman named Mr. D. Woolley.
Her Merlin engines were run again, and on November 22 she was flown to Newcastle for further maintenance prior to heading south for Africa. However, no other North Stars joined CF-TFM at Newcastle, and eventually as a result of a High Court order on October 1, 1964 the airport authority auctioned off the old North Star.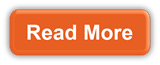 With the kind permission of Larry Milberry from www.canavbooks.wordpress.com
Here is a great Canadair photo that you'll enjoy in The Wilf White's Propliner Collection. One of Wilf's wonderful Prestwick (PIK) views, TCA North Star CF-TFM thunders in on short final circa 1950.
'TFM gave fine service at TCA until sold in 1961, but it ended badly thereafter, crashing while running guns in Africa.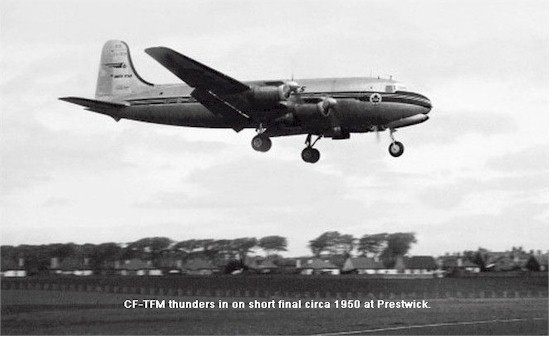 ---

Extracted from the 'Horizons' magazine.
Issue dated December 1997
Gearing up for the sun season, here are the staff at both Montego Bay and Kingston, Jamaica.
From Kingston, left to right, standing: Donet Soares, Tashia Thompson, Patrica Morrison, Osmond J. Harry, Wendy Lue, Sharon Palmer, Marcia Moses, Cheryl Thwaites and Dalton Maragh.
Kneeling are: Audrey Mills, Marge Lackan, Marlene Monro and Michelle Williams.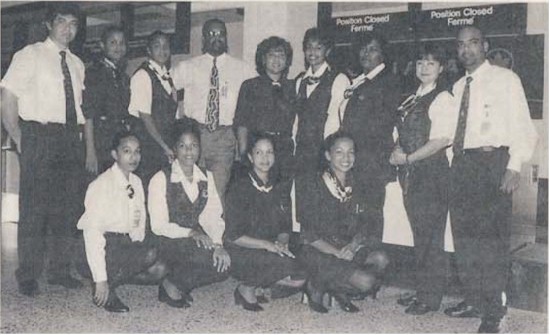 From Montego Bay, left to right: Joy Schroeter, Karlene Taylor, Janette Maragh, Desmond Gordon, Diana Chrichton, Maureen Gayle, Karen Tavares-White, Robert Ferguson, Kerry-Ann Miller, Deborah Jackson and Hazel Tenn-Black.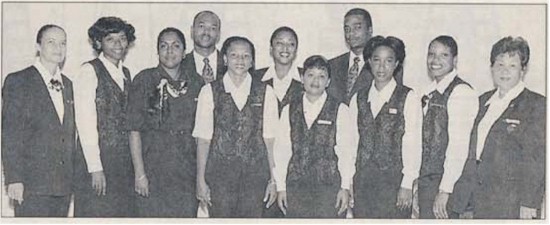 ---
Air Canada celebrates 30 years in Los Angeles.
September 29, 1997, marked a double celebration for Air Canada employees in Los Angeles. It was the 30th anniversary of Air Canada's operations in LAX and was chosen as the day to celebrate the 60th anniversary of the airline.
The day's festivities began with the arrival of flight AC799, using the A319 with the TCA livery (Fin #264). Active and retired employees met the flight at the gate, joined by dignitaries from the local Canadian Consulate, the City of Los Angeles, the Department of Airports, and Air Canada executives.
The Department of Airports presented Air Canada with a plaque commemorating the two anniversaries. A bagpiper then led celebrants to the Maple Leaf lounge for an official reception hosted by Al Thompson, Vice President, Corporate Affairs - Western Canada.
Following the formal event, an informal party was held at a local hotel allowing staff, retirees and lay-over flight crew to join in a celebration of Air Canada's heritage. A good time was had by all!
Many employees and retirees joined in the festivities.
Seated, left to right: Audrine Marshall, Customer Service Agent; Myrna Lawrence, Lead Training Instructor.
First row: Customer Service Agents Yanna Om, Debbie Uyeda Taira, David Verano, Leanne Jacobson, Bertha Lemke, LaWanda Smith and Micheline Adam.
Back row: Customer Service Agents Miguel Morales Jr. and Jim Cordero; Louise Valois, Lead Customer Service Agent and Captain Randy Gouge.
Editors' Note: Can anyone send in the location and a photo of the plaque mentioned?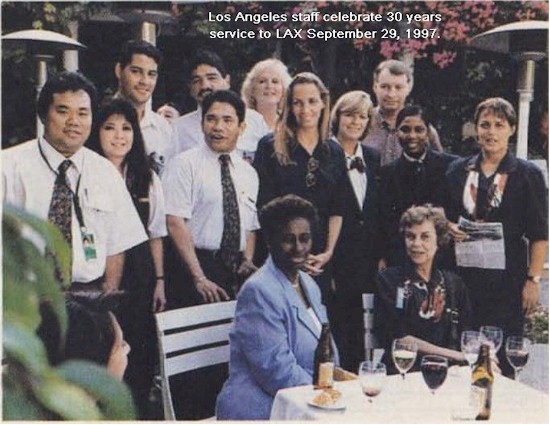 ---
40 years of service.
Air Canada, in late 1997, paid tribute to a number of employees celebrating the 40th anniversary of their service with the company. Celebrants were invited to a tribute dinner in Montreal hosted by Lamar Durrett, President and CEO.
Special guests Claude Taylor, Chairman Emeritus, and Robin Wohnsigl, Vice President, Technical Operations were on hand to recognize the loyalty and commitment of these long-standing members of the Air Canada family. Congratulations on 40 years of service from your colleagues and friends!
Pictured, from right to left are: Robin Wohnsigl, Vice President, Technical Operations; René Opzoomer, Flight Service Director, Dorval; Ken Creran, Mechanic, Winnipeg; John Lindsay, Stockkeeper, Winnipeg; Claude Taylor, Chairman Emeritus; Trixie MacLeod, Customer Sales & Service Agent (Airports), Toronto; Al Graham, Customer Sales & Service Agent (Airports), Toronto; Karl Lenchuk, Mechanic, Winnipeg; Bob Kowch, Flight Service Director, Toronto; Lamar Durrett, President and CEO.
Absent from photo: Captain Norm Foster, Flight Ops, Toronto; John Robb, Non-Destructive Testing Technician, Dorval; Fred Walker, Certified Aircraft Technician, Toronto; Betty Edwards, Customer Sales & Service Agent (Airports), Regina.

---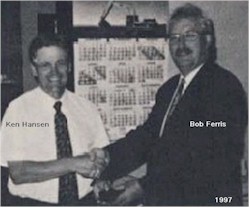 In 1997, Ken Hansen, Station Agent, Saskatoon International Airport (YXE) received his 25 year pin.
On his left is Bob Ferris, Manager, Customer Service, Saskatoon, offering his congratulations.
---
Issue dated January 1998
Barbados staff celebrate the company's 60th anniversary in 1997.
From the left: David Greenidge, Jackie Yearwood-Parris, Lisa Farley, Tony St. Hill, Sandra Grant, Ronald Phillips, Kim Clarke, John White, Marguerite Cole, Denzil Allman, Rene Reid and Pauline Mayers took the MV Harbour Master by storm in Barbados.
The staff celebrated with a cocktail party on board the specially decorated boat.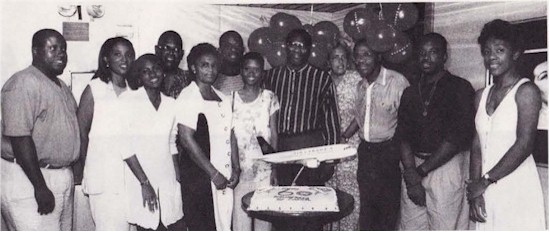 ---
Port of Spain staff celebrated the company's 60th anniversary over dinner in 1997.
In this photo, seated on the left: Dean Bissoondial, Natasha Forde, Sheldon Beepat, Victoria Leps and Indra Maharaj.
On the right we have: Thomas Wallace, Kawal Singh, Heathcliff West and Asha Chotack.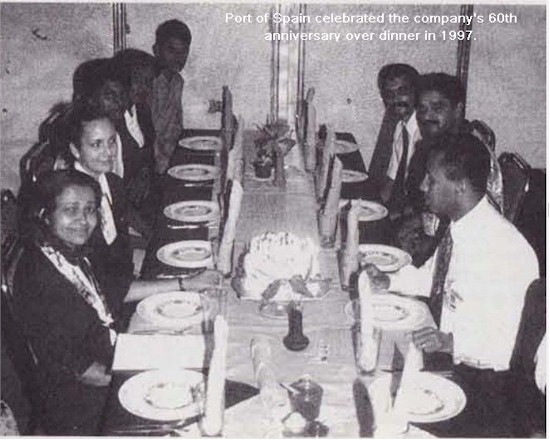 ---
To celebrate the company's 60th anniversary in 1997, staff in Paris held a dry run earlier in the year, with a small gathering, complete with cake.
In front we have: Yolande Bensoussan, Francoise Girard, Sandrine Aubard and Martine Danel.
At the back: Pascale Marteau, Klaus Berg, Stephanie Levassort, Josette Decottignies, Michele Guenault-Blanquie, Caroline Tonnelier, Marie-Louise Honore and Christiane Mallet were among the attendees.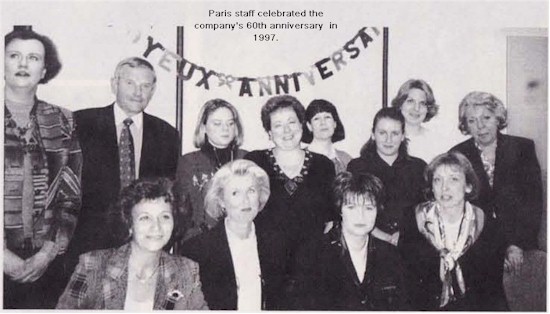 ---
Staff from Kingston, Haiti and the Bahamas got together in Kingston for their event to celebrate the company's 60th anniversary in 1997.
The cocktail party put a smile on everyone's face, as they shared memories...and a delicious cake.
Editors' Note: Sadly no names were supplied, but we are sure some of you will recognize themselves and co-workers.