Larry Milberry has put together a blog named 'The Great Lockheed Twins' that can be followed @ canavbooks.wordpress.com.
We have, with permission from Larry, some of the photos and story of those aircraft which ended up at either Canadian Pacific Airlines or Trans-Canada Air Lines.
---
Excerpt from Larry's blog -
On June 29, 1960 we again were skulking around Malton. When checking out the wartime hangar line, the magnificent Massey Ferguson Lockheed Lodestar taxied in.
What a shot it made with that great background of afternoon cumulous cloud.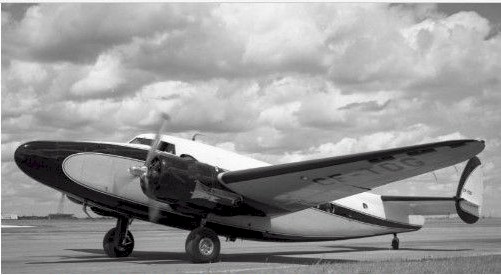 Lockheed Lodestar ex CPA (CF-CPJ) and ex TCA (CF-TDG)
Ordered originally by LAN Chile, the Lodestar had been diverted as a C-57 to the USAAC, was delivered in April 1943, then loaned to CPA, where it became CF-CPJ.
In August 1944 it moved to TCA, becoming CF-TDG. In 1948 it was converted by Canadair for the Massey Harris farm implement company of Toronto, and later was upgraded to Learstar specs, e.g. with the long, slim nose.
Massey Harris soon became Massey Ferguson with a corporate fleet at Malton.
CF-TDG briefly was registered in the 1960s to Execaire of Dorval, then ended its days as an attraction in a Montreal children's park. Sadly, vandals spoiled CF-TDG's retirement when they set it on fire!
Editors' Note: CF-CPJ was registered to CPA during 1943.
CF-TDG, type 18-08A-200 delivered to TCA on August 18, 1944 assigned fin #54 and sold to Massey Harris on July 14, 1948 after 11,211 hours of service.
Source: Air Canada Pocket Guide by Frank Pooley and CPAL history by D.M.Bain.
---

Postings from the Nordair Facebook page -
Juan Carlos Martin posted this on June 27, 2021.
Saw photo from the Pittsburgh International Airport (PIT) on the 'US Airlines Past Liveries and Aircraft' Facebook page.
Yves Hubert posted this comment -
There are a few documented events of deer impacts on the north runway at PIT. Too bad no one captured the moment we pulled up to the gate once in PIT with a deer wrapped around the nose wheel strut.
Gordon Walker added this memory -
I believe the aircraft was CF-NAB...two deer strikes within a very small period of time earned it the nickname "The Deer Hunter" amongst the YYZ Maintenance Crew.
Eric MacLean mentioned this -
CF-NAB weighed a ton more than on delivery from repairs added. Good story on it here "Nordair's First Boeing 737 – A Jet for All Seasons"
Editors' note: Mr. Maclean is referring to 'Wayne's Wings' article from NetLetter #1351.
---

From Pacific Western Airlines Employees page
Paul Peron posted this photo and comment on July 25 -

This picture was sent to me by a long-time friend of Resolute Bay via her brother who was with PWA. But sadly it was taken way before my brief time there. I can't make out the cap badges.
The terminal was certainly a predecessor to the old building I worked in.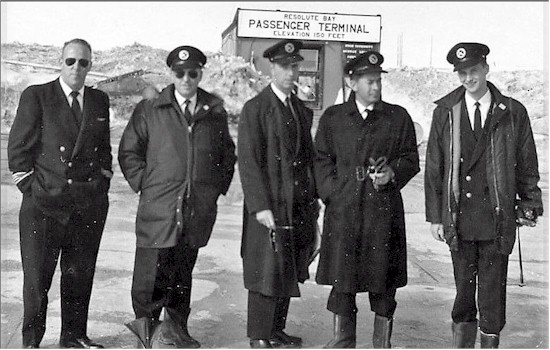 ---
Posted by Andre Daemen on July 8 -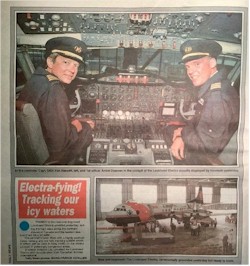 Mods done on Lockheed Electra CF-NDZ. News event late June 1988. Fond memories, chief pilot Dick Van Hasselt and myself showing off the new technology.
Only to have the ice patrol wrapped up shortly afterwards.
---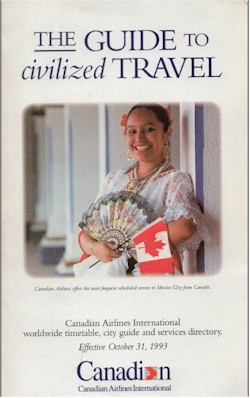 Canadian Airlines International worldwide timetable, city guide and services directory effective October 31, 1993 (excerpt of several pages).

Source:
airline-memorabilia.blogspot.com