Mackenzie Air Service, Ltd. - Canada (1933-1942).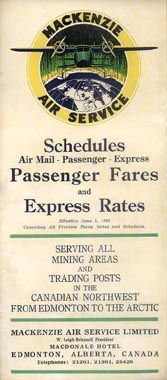 Inaugurates operations on January 1, 1933 by flying fresh vegetables from Edmonton to the Eldorado Mines at Great Bear Lake. The route to Great Bear Lake is continued. During 1938, scheduled flights are undertaken linking the company's base with Port Radium via Yellowknife and Gordon Lake.
During the spring of 1941, the carrier is purchased by Canadian Pacific Railway and is merged with the Canadian Airways, Ltd. service from Edmonton to Prince Albert under the marketing title United Air Services, Ltd. in July.

Six months later, on January 30, 1942, Mackenzie is one of several air transport companies merged to form Canadian Pacific Air Lines, Ltd.
Source: worldhistory.biz
Pictured is a timetable effective June 1, 1938.
Source: timetableimages.com collection of Bjorn Larsson
---
Junkers 52
Canadian Airways Ltd. received its charter on June 27, 1930. In its 11-year history, the airline acquired more than 120 aircraft, made up of 34 types.
One of the best known airplanes in Canadian Airways' fleet was the Junkers 52, CF-ARM.
The Junkers 52 (c/n 4006) entered the Canadian Airways fleet on October 26, 1931, and had the distinction of being the largest aircraft in Canada at the time. It was called the "flying boxcar" and was designed as a freight aircraft with large doors for easy loading of bulky items. Cargo capacity was two tons.
On July 1, 1942 it was assigned fin #1 by CPAL. It was withdrawn from service in 1943 and was scrapped in May 1947.
Source: Air Canada 'Horizons' magazine. Issue dated February 2003.
See also: en.wikipedia.org/wiki/Canadian_Airways

A replica CF-ARM is on display at the Royal Aviation Museum of Western Canada in Winnipeg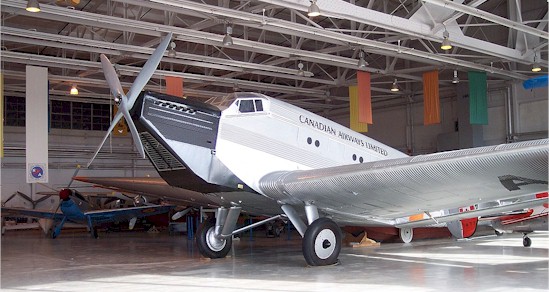 ---
From the "InfoCanadi>n" magazine.
Issue dated July 30, 1987
Dave Hodge, former host of 'Hockey Night in Canada' and currently sports director for a Vancouver radio station, presented plaques July 8 on behalf of the Canadian Cancer Society to a group of Vancouver employees.
In making his presentation, he praised the employee group for contributing their time and energy in the battle against cancer.
Accepting the award from Hodge, left, are Brenda McSweeney, Revenue Accounting Clerk; Gordon Moul, B-737 Captain; Sandy Jung, Personnel Administration Coordinator; Liz Davis, Benefits Administration Assistant; Gerry Goodridge, Manager, Public Relations B.C. and Lil Freeman, Personnel Administration Coordinator.