James Fraser sent us this information and photos -
I just read the article in NetLetter #1487 (Submitted Photos) and would like to add more info on the DC-3.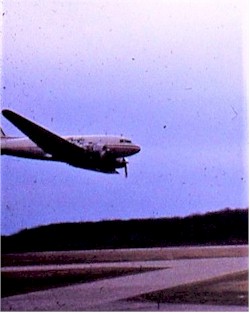 Trans-Canada Air Lines purchased its first DC-3 in 1945; thirty operated between 1945 and 1963. Canadian Pacific Air Lines operated 17 until the late '50's. The DC-3 could fly at 165 mph, and had a range of 1,500 miles. Typical passenger capacity was between 21 and 28.
I worked at YXSAP (Prince George, B.C.) in 1969 and was there for the last of an era- DC-3 's.... CP had 3 based in YXS until April '69 and had 2 main routes....YXS to YYD (Prince George to Smithers, B.C.) and YXS-YQZ-YWL-YKA (Prince George - Quesnel - Williams Lake - Kamloops, B.C.).

All the airport staff held a Propout Party in the rec hall to celebrate...and the pilots did a great fly-past enroute to oblivion....
This date also marked the arrival of CP Air and the B737....... orange is beautiful !!!!
I have attached a couple of photos taken at Prince George Airport.
Left: Canadian Pacific DC-3 on approach - 1969.
Below: Canadian Pacific DC-3 and B-737 on the tarmac.
Regards Jim Fraser, PEI
---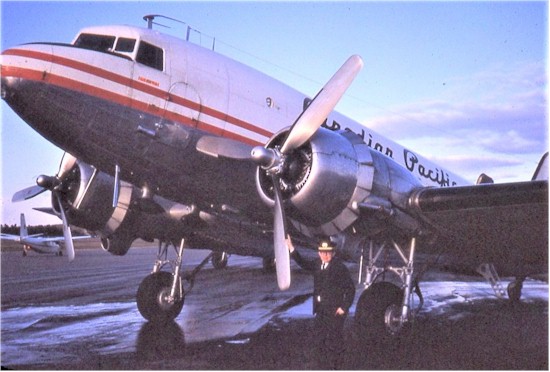 ---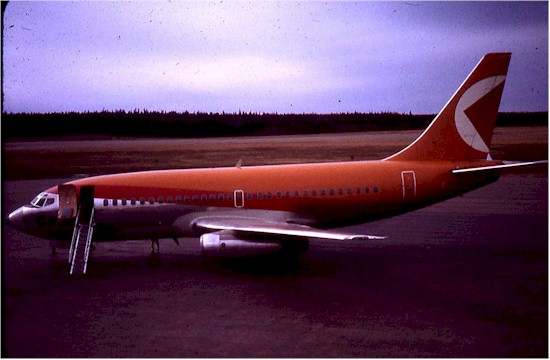 ---
Dave Shore sends us this memory -
Regarding NetLetter #1487 (Submitted Photos) CP had DC-3's until 1974 when the last one was sold to Harrison Airways.
I'm not sure of the date of the last passenger service with them but when I started in 1967 there was a DC-3 flight operating Kamloops - Williams Lake - Quesnel - Prince George and another flight between Prince George and Smithers. The last aircraft was in CP Air colours.
Dave Shore, Richmond B.C.
---
Richard Begin sent us this memory after reading the NetLetter #1487 (Remember When) -
Can't agree more with Monika's story. I so enjoyed and laughed out loud while reading about the loss and washing of meat coming out of the oven on takeoff. A very similar situation happened to me on a Miami to Toronto flight.
On takeoff, 20 filets came out and landed on the floor. With a full load, there were not too many options so I washed them off, borrowed some veggies from first class and reconstructed the meal.
No one was the wiser. I mixed them up in the serving trollies so that my colleagues didn't known if the tray they were serving had the washed meals.
And yes, those were the days that passengers had class and knew which utensil to use.
Richard Begin.