From the "CP Air Blue Skies" magazine.
Issue dated 1978
A toast to twenty years on Transcon.
On May 4, 1959, the first of CPA's Bristol Britannia turbo-props launched the airline's transcontinental service.
The 'Whispering Giants' flew regularly between Montreal, Toronto, Winnipeg and Vancouver. Flight CP1 westbound took 9 1/2 hours while Flight CP2 eastbound took 55 minutes less.
Restricted for years to one return flight per day, then progressively increasing to 25% of the transcon market, CP Air improved and expanded its services greatly over the years with the introduction of all jet equipment. Additional service to and from Calgary, Edmonton and Ottawa, improved frequency and numerous inter-city non-stops.
This year (1978) the Government removed all restrictions on CP Air and we are free to compete on the route with Air Canada. For openers, the company will be adding three new B-737's and the first of four super DC-10's before year end.
Under strong competitive pressure CP Air has proved it can attract domestic traffic even under difficult and restrictive circumstances, and our present transcon revenues are equal to our total 1970 system revenue.
With open competition and sustained traffic growth in Canada, we have many opportunities to develop a prosperous future for the company.
So let's toast the 'Whispering Giants' that got us started and all those who worked so hard to secure our place in Canadian skies. And another to the unlimited future ahead!
---
Below, two of Canada's great optimists, CP Air's pioneer president Grant McConachie and the late British Columbia Premier W.A.C. Bennett inaugurate CP Air's transcontinental service in 1959. The premiers of Manitoba, Ontario and Quebec officiated at Winnipeg. Toronto and Montreal.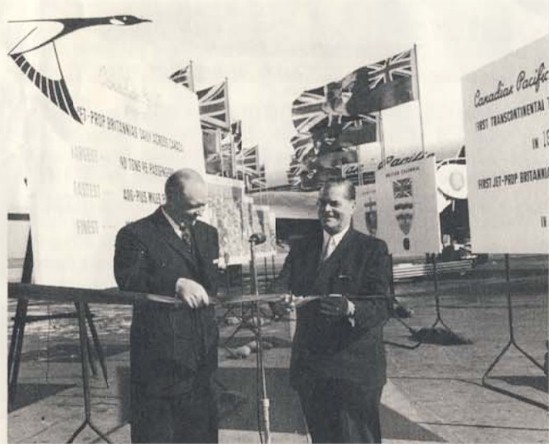 ---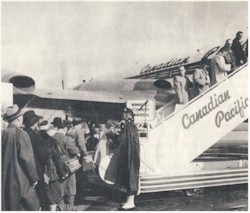 Inaugural guests and passengers were piped aboard the inaugural CPA Britannia in Vancouver.
---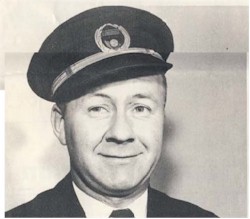 Captain Harvey Johnston, now retired, had the honor of piloting the westbound Inaugural Flight CP1.
---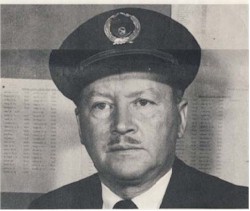 While his assistant associate Captain J.K. Potter, also retired, flew Flight CP2 from Vancouver.
---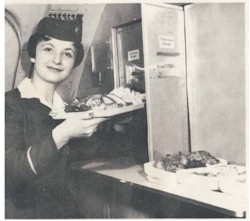 Inside, Flight Attendant (they were called stewardesses back then!) Jeanette Sylvestre prepares the first class meals.
---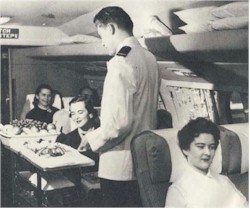 The service was 'first class' all the way of course! CPA was the first Canadian airline to offer trolley service.
---
The 'Whispering Giant' CF-CZW waits at the gate at the old Vancouver Airport. Powered by four Bristol Proteus turboprops, she was among the most comfortable planes aloft in her day.