From the early days of Trans-Canada Air Lines
We go back in time in case some readers are interested in genealogy information on their families.
We peruse the early additions of the 'Between Ourselves' magazine.
---
Issue dated November 1948
1948 - December 1 - Inaugural North Star 'Skyliner' service, Montreal - Toronto - Tampa, Florida - Nassau, Bahamas - Kingston, Jamaica - Port of Spain, Trinidad and return using North Star equipment.

---
At Sydney, Nova Scotia the Trans-Canada Air Lines Recreation Association (TCARA) was reorganized. A complete new slate of officers was brought in consisting of Al McWilliam, President; Jack Stuewe, 1st Vice-President; Frank MacDonald, 2nd vice-president; Isobel Bezanson, secretary and John Connolly, Treasurer. It looks like a good season.
---
Personality of the month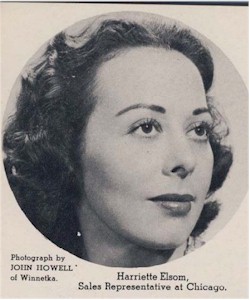 Chicago boasts the first woman Sales Representative in TCA's U.S. offices. We introduce you to Miss Harriette Elsom.
Harriette joined TCA in April 1946, when we opened our Chicago service, and advanced through the positions of Telephone operator and Passenger Agent to become a Sales Representative in January of this year.
Taking over a man's job isn't new to Harriette. Her background in aeronautics was gained during the war when the Civil Aeronautics Administration trained women as Airport Control Tower Operators in order to release the men for duty in the Armed Services. Harriette was assigned to the control tower and held forth for two years.
---
Issue dated December 1953
The beginning of November 1953, Toronto became an originating and terminating point for trans-Atlantic flights for the first time.
Initial plans call for the dispatch of one overseas flight a week out of Toronto and the arrival of another from London and Prestwick, and to mark the introduction of this new service to the public, there was a ceremony at Malton Airport.
Until November 1953, all TCA's overseas flights turned around at Montreal, connections with domestic flights being made at that point. Flags of the countries served by TCA were on parade at the ceremony carried by 6 stewardesses and two guides.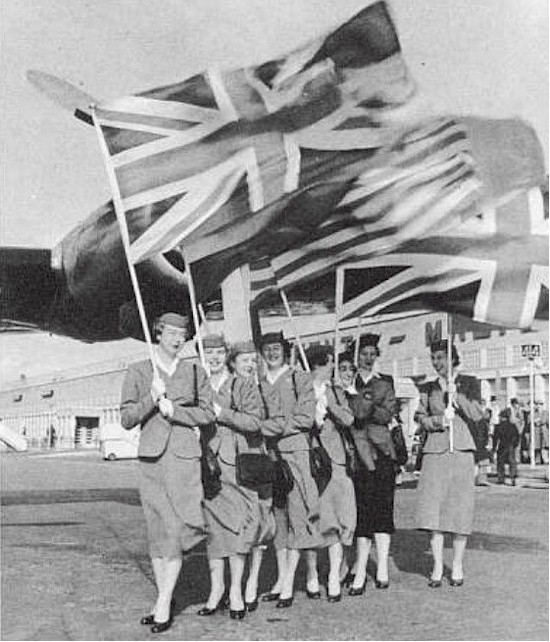 ---
Passengers for TCA flight 532 of November 3, 1953 were piped aboard at Malton Airport by members of the Georgetown All-girl Pipe Band.
It was the first trans-Atlantic flight to originate at Toronto, operating once-weekly.