In the photograph below, 'Mobile Lounges' designed to take passengers between terminal and aircraft were undergoing driver trials at Montreal International Airport.
The American-made equipment was being tested for possible use at the new Ste. Scholastique Airport (aka YMX Mirabel).
The huge lounges can seat 95 people and have a maximum capacity of 155. A similar type was in use at Dulles International Airport.
Source: 'Horizons' magazine issue October 1972
Additional Info: en.wikipedia.org/wiki/Mobile_lounge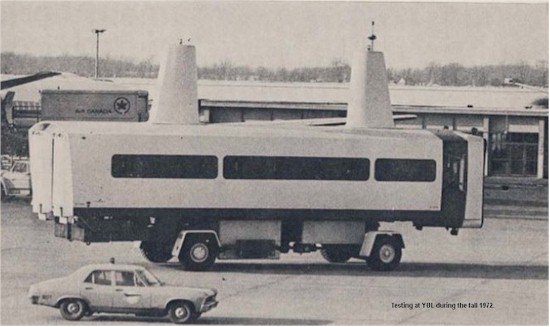 ---
Surviving the Graveyard Shift
When things go Jingle in the Night
by Mike Nash, Prince George, British Columbia
Reading your 'Remember When' flashback story in NetLetter #1498 about working in Air Canada's computer rooms in the 1970's brought back memories of ten years spent working in the large computer facility at 151 Front Street West in Toronto from 1969 to 1978.
There, I participated in the development, testing, start-up and operation of the Reservec-2 system, centred on a Univac 1108 mainframe computer; and later a network controller project that included eight months working in Dallas, Texas as Air Canada's project lead.
During that early decade of information technology, we had a gigabyte of state-of-the-art online drum storage taking up an arena-sized computer room. (Half a century later, it's common to have a hundred or thousand fold amount of digital storage on a thumb drive or handheld device, but a gigabyte was huge in the 1970's).