1973 - March 15 -

Inaugural flight between Toronto-Vancouver with L-1011 TriStar equipment.

2022 - December 16 -

Inaugural service by Jazz from Halifax (YHZ) to Newark (EWR) with Dash 8-Q400.
---

Issue dated July / August 2016
Air Canada Rouge began operations on July 1, 2013 with a start-up fleet of two Airbus 319 aircraft and two Boeing 767-300ER aircraft.
On launch day, the airline operated its first flights—Montreal-Athens, Toronto-Athens, Toronto-Edinburgh, Toronto-Venice, Toronto-Kingston and Toronto-Liberia (Costa Rica), welcoming 775 customers onboard.
New non-stop service introduced by Air Canada Rouge during 2016.
May 19 - Toronto - London-Gatwick
May 29 - Toronto - Prague
June 2 - Vancouver - San Diego
June 3 - Montreal - Casablanca, the first route to Africa in the Air Canada network
June 10 - Toronto - Budapest
June 10 - Vancouver - Dublin
June 13 - Toronto - Glasgow
June 14 - Toronto - Warsaw
---

From the early days of Trans-Canada Air Lines.
We go back in time in case some readers are interested in genealogy information on their families. We peruse the early editions of the 'Between Ourselves' magazine.
Issue dated July 1955
Editors' Note: The photos below are of groups of 'Passenger Agent' trainees for both telephone and counter service as provided in the mid 1950's.
We have identified people as well as we can, however, the lists are incomplete and may contain errors. Click the photos to view larger versions with the original captions.
Please feel free to let us know if you can clarify the identity of anyone on the photos.
---
Group of Passenger Agent (telephone service) trainees from various stations across the system completed basic training.
There are 16 people in the photo but only 10 names are mentioned.
Included in the photo are:
G. B. Findlay, A. B. Lock, R. C. Climie, (Instructor),
C. O. Robbins, K. M. Tyron, D. J. Rogers, M. L. Lamb,
M. Hillicker, B. M. Hopkins and Miss B. Wrynn.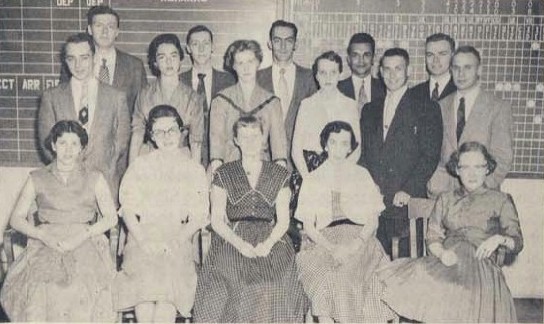 ---
Another group group of Passenger Agents (counter service) graduated from basic training in Montreal during 1955.
From the left:
Back row: R. J. Warren (Instructor), C. M. Irwin,
M. A. Nicholls, C. Rigby, D. Copeland and
S. l. Clark (Instructor).
Middle row: L. D. Findlay, J. Gray, D. F. Woolward,
A. A. St. Laurent and G. Tobin.
Seated: Mrs. B. J. Brunker, l. P. Cassell, and P. Lepine.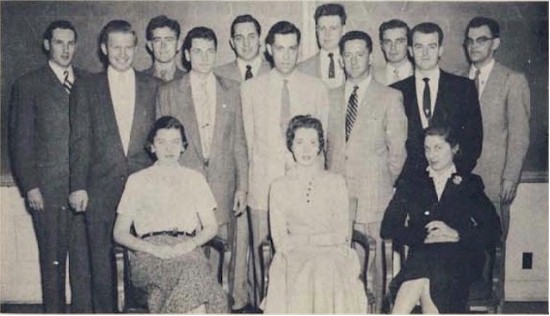 ---
Another group of trainees:
From the left:
Standing: R. E. Mason, Mrs. S. Wilson, M. Brousseau,
R. J. Warren, Miss B. A. Young and V. Peever.
Seated: Mrs. M. E. McTavish, P. Whittle, M. R. Walters, and
G. D. Davidson.