Chuck Tolley, on October 6, 2021, posted this memory on the Nordair Facebook page.

In 1963, I accepted a teaching position in Kangirsuq (Payne Bay at the time) and traveled from Montreal to Kuujjuaq (Fort Chimo) with Nordair. This was my first flight on a larger aircraft.

The photo below is of Nordair's DC-4, CF-JIR, at the Kuujjuaq airport in late August, 1963. I believe this particular aircraft had been owned by Wheeler Airlines and was later sold to Nordair.

We had originally been scheduled to fly on a 'Super Connie' but it was mechanical and we had to resort to the old faithful DC-4. I had to wait in Kuujjuaq for 10 days until the weather was good and a plane was available to fly us in to Payne Bay.

I eventually traveled the last leg on a Wheeler Norseman. It was the beginning of a great adventure.
Nordair DC-4 CF-JIR at Kuujjuaq airport in late August 1963.
---
Remember when the crew would pass a captain's bulletin to the passengers during the flight?

Here is a copy of one issued February 3, 1941 while flying over Alberta.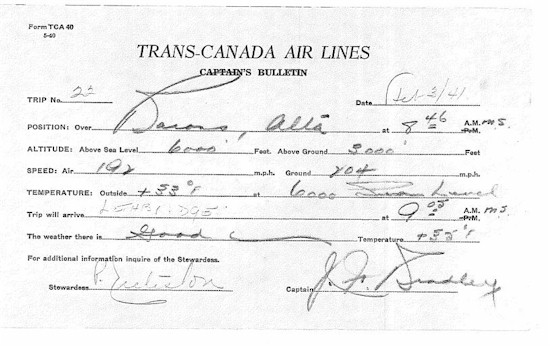 Women in Space: Sergeant Mandie MacKenzie.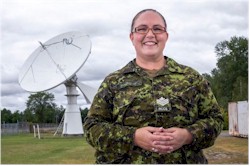 The theme of this year's UN World Space Week, Women in Space, carries special meaning for at least one Canadian Space Specialist.
Sergeant Mandie MacKenzie, a Senior Space Watch Crew Chief at the Canadian Space Operations Centre (CANSpOC), sees UN World Space Week as an opportunity to inspire other women interested in the space domain.

"Women can understand space and women can contribute to space, and our contributions are vital," said Sgt MacKenzie.

"There has been a glass ceiling for so long, so to be able to participate in and contribute to Canada's future in the space domain has a lot of meaning."

Sgt MacKenzie describes her job as manning a virtual space observation post, surrounded by 19 screens that display varying types and classifications of data. She reports on anything from missile warning detection to collision of objects in space to system outages. This all contributes to CANSpOC's ability to provide 24/7 monitoring of the space domain to help ensure the safety of Canadian and allied space-based capabilities.
Source: www.rcaf-arc.forces.gc.ca
---
Posted on the Northern Lights Aero Foundation Facebook page June 18, 2021.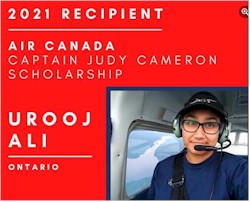 Congratulations to Urooj Ali, one of four 2021 Recipients of the Captain Judy Cameron Scholarship on behalf of Air Canada and the Northern Lights Aero Foundation.

Urooj Ali is a 19 year old in her second year of Geography and Aviation at the University of Waterloo, who is completing her Commercial Pilot License at the Waterloo Wellington Flight Centre.
Source: facebook.com/NorthernLightsAero

Learn more about Urooj in her interview with retired Captain Judy Cameron on our YouTube channel!
Larry Milberry sends this -

Welcome to CANAV's Fall/Winter 2021-22 booklist check the web site www.canavbooks.wordpress.com.

Have a Look! CANAV's Fall/Winter 2021-22 List — It's a Blockbuster Season.

Also … Norseman Update, CAHS History, Bill Wheeler, Neil A. Macdougall, Austin Airways, Fox Moth Discoveries, Les Corness Treasures, James Bay Airlift, Canadair CL-260 Re-Discovered, John Ciesla's fantastic Transportation Files, Ghost Canso/Bush Caddy Update

As usual it includes all the standard CANAV classics, with some excellent deals, especially for Air Transport in Canada at a give-away, all-in price. There are numerous new offerings, all enticing for the serious fan. It's hard to say which is the real standout of the bunch, but I'm tending (for one) towards Chris Hadfield's The Apollo Murders. I've just started to read it and I'm reminded right away (as far as writing style and enticing content go) of Ernie Gann's Fate is the Hunter.

That's about as grand a compliment as I could give any aviation/space author. I think you need this book, but so do you need a box load of others from this fall's list. Take a look, you'll see what I mean … stock up for winter.

---

Here we have the timetable from Air Laurentian issued September 6, 1993 from the collection of David Zekria.

Source: timetableimages.com/ttimages/9v.htm

The history of the Laurentian Air Services can be found in the book:

For the Love of Flying: The Story of Laurentian Air Services

by Danielle Metcalfe-Chenail

Available at:
www.amazon.ca/Love-Flying-Story-Laurentian-Services

---

Further to our article on Cascadia Air in NetLetter #1438 -

Small Canadian commuter start up Cascadia Air has announced non-stop scheduled flights between Vancouver and Penticton as it expands into the British Columbia interior, with plans to introduce more service routes in the next year.

Flights to Vancouver were launched on August 30, 2021. The carrier will offer direct flights on the route throughout the week and weekends on a limited scheduled basis using Piper (twin piston) PA31-350's until such time as consumer demand warrants adding more schedules and larger aircraft, the company said in a statement. According to the Canadian aircraft register, the company owns four more Piper Aircraft; three PA 31-350s and one PA 32-260. To accommodate social distancing during the pandemic, its aircraft are currently spaced for a maximum of six passengers.

Source: ch-aviation.com/portal/news

---

New budget airline says planes will fly from Waterloo Region to Montreal, Ottawa next year.

Pivot Airlines says tickets are now on sale for travel from Waterloo Region to Montreal and Ottawa as the company will finally have planes in the air early next year.

It says service between Waterloo Region and Ottawa will begin on February 19, 2022 while planes will start travelling to Montreal from Waterloo Region on March 21, 2022.

Source: flypivot.com
Referring to NetLetter #1473, Terry Rea wrote,
Hi Folks,
These photo's sure bring back memories for me! I worked for Nordair (CF-NAB and CF-NAQ) and PWA (CF-PWE and CF-PXB) @ YRB (Resolute Bay, NWT (now Nunavut)) in 1969 and 1970 with Roger Hill before I transferred to ATC (YVR Tower - Retired 2017).
YRB was a busy Arctic airport those days; we also had 4x PWA Hercs (CF-PWX, CF-PWO, CF- PWR and CF-PWN) based there in winter for Arctic resupply missions to the DOT Met Stations (YIC YMD + Mould Bay + Alert NWT).

I remember working the PWA Royal Tour charter aircraft in July 1970 and met Prince Charles coming off the B-737; we were born the same day November 16, 1948. We are both 73 years young!

If interested, click the YouTube link for a nice clip with my Lifetime Achievement Award from BC Aviation Council.
Before the COVID shut things down, I enjoyed get-togethers with the 'Quarter Century Club', with other lifers in aviation; lost contact and hoping we can resume our quarterly meetings. Do you have any contact info?
Editors' Note: The 'Quarter Century in Aviation Club' has ceased operations but, we believe, many members are NetLetter subscribers. We would certainly enjoy receiving more stories from former members.
---
Referring to NetLetter #1472, Mike Ronan wrote,
I happened to spot a mention of a very long flight for a Boeing 767.
From the newsletter: ... "The longest scheduled nonstop flight by an Air Canada B-767 was Toronto to Tokyo, which lasted 13:45 hours and covered 10,324 kilometres."
I quickly realized that I had the privilege of being the captain on that very flight, and I will be happy to provide a few details! It was not until today while reading The NetLetter that I had any knowledge that this flight was the longest scheduled flight for a B-767!
This caused me to crack the old logbook, and I see that this flight departed on November 13, 2004 arriving in Tokyo Narita on the 15th with a B-B time of 13:58.
The crew for the flight was made up of 4 pilots: Denis Potvin, Peter Thompson, Randy Scheffel and myself.
I do remember the flight planning stage. We sharpened our pencils as we entered into several discussions with the dispatcher who had to do a fair bit of "ballet" with the figures. We found that we could only depart YYZ by bumping all air cargo as well as much of the baggage due to our 'FULL TANKS' situation.
The route took us pretty far north over places like Deadhorse and Utqiagvik up on the Beaufort Sea along the north shore of Alaska.
I recall taking a very close look at weather conditions and runway-in-use at Narita prior to committing to overfly Sapporo on Hokkaido and, now satisfied that our fuel state was good, we continued to our planned destination.

We landed just inside the 'legal reserves' for fuel, but the "insufficient fuel" warnings were present on our panels on final approach! This was due to a runway change and the need to take a long vector to the south of NRT prior to our landing towards the north on arrival, and the unusual requirement to extend the landing gear very early, (there is a procedure at this airport that states that the landing gear must be extended prior to crossing the shoreline). By dropping the destination alternate of Haneda from the FMC this FMC "nag" was quickly put out.
Due to nice tailwinds, the return flight was quite easy at 12.3 hours.
Four years later I moved on to fly the B-777 and this route became quite easy as I have flown it many times and truly enjoyed the very long range of the newest Boeing.