Doug Seagrim refers to the Christmas edition of the NetLetter to make this comment -
Enjoyed the clip on Malton Airport, 1939. One minor correction... Captain Bob Smith in the flight deck of a Connie; his son's name was Rod, not Rob. He died in an unfortunate incident while on layover in London. Forget the exact year but some time in the 1990's.
---
Don Edwards has sent in these comments after viewing NetLetter nr 1313 -
Thank you so much for including the video of Pat Sowsun at the celebration of his long association with TCA/AC. Pat was working in the WPG drafting office when I started there in October 1956 and the video brought to life many fantastic memories of that period of my own time in the drafting office. Never a dull moment when Pat was around.

As we all went into retirement, contact was lost so I was delighted to see him still active at 91 years and much of the same Pat still there. I assume he is living somewhere in the Burloak area, but, wherever you are Pat, it was great to see you in the video and my best wishes for good health go out to you Again, thanks to our netletter friends for the opportunity to see the video.
Kind regards,
Don Edwards
---

Marlie Kelsey refers to NetLetter nr 1314 and the article about the book by Danielle Metcalfe-Chenail with many interesting stories of the north called "Polar Winds- A Century of Flying the North". One of the fun parts of it is that she included a picture and some stories about my dad, Duncan McLaren and she also included a photo of me in Whitehorse working on the ramp and a write-up about my time in YXY. There are lots of interesting stories.
---

"Bernie" referring to the article in NetLetter nr 1313 would like to set the record straight -
I would like to bet that Air Canada's (TCA) first flight to Barbados in 1949 did not land at an airport called Grantley Adams. The romantic names of most of those Caribbean Airports are unfortunately long gone. I would like to be reminded of some of those names and I believe that the name in Barbados at that time was Seawell.

Bernie

(Upon checking the "Between Ourselves" issue dated Dec 1949, the inaugural flight landed at the Seawell airport - eds)
---

Heather Johannson also wishes to set record straight regarding the make up of "CAIRE" as indicated in the article in NetLetter nr 1313 -
In case you haven't noticed there isn't any "P" in CAIRE that is because it stands for "Canadian Airlines International Retired Employees." I don't know if the error was wishful thinking on Vern's part or a typo on yours.
(yours? Surely you don't mean the NetLetter gang.)

You might actually mention if there is anyone in the Okanagan Valley who is interested in joining us for lunch, to contact Abby Sones at This email address is being protected from spambots. You need JavaScript enabled to view it.

Heather Johannson
---

Denise Pemberton has sent us this -
I live in Phoenix, Arizona and retired from Air Canada 14 years ago. I volunteer at a local Thrift Shop and came across a donation for us to sort and sell. In it is an old TCA tie. There was a name in the items, it looks to have belonged to a Mr. George Kilpatrick and he may have lived in Nova Scotia and been a golfer too. I joined in 1967 when we were already Air Canada.
Best wishes,
Denise

(If George would like to contact the NetLetter, we will try to reunite him with his tie - eds)
---

Ken Pickford sends this comment to correct the information in NetLetter nr 1312
Re the photo of the CP proving flight in 1949 using a North Star borrowed from the RCAF. The text on the photo says it's flight 301 on July 13, 1949 to the South Pacific.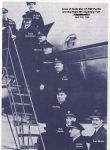 I'm quite certain that photo is of the North Pacific proving flight in April 1949 to Tokyo, Hong Kong etc. described in the paragraph to the right of the photo. I've seen that photo a few times before, referring to that proving flight to Asia. The flight number 301 reference is also incorrect. That was the CP flight number to the South Pacific used for many years, from 1949 until at least the 1970s (southbound 301, northbound 302).

The last paragraph of that item referring to the aircraft used by CP on that North Pacific proving flight also makes it sound like it was with TCA when it was written off in the UK in 1954. It was actually being operated by the RCAF then (no fatalities in that landing accident by the way). It was one of several North Stars (6 if memory correct) intended for the RCAF which were operated initially by TCA while waiting for their own pressurized North Stars. The RCAF aircraft were unpressurized and had quite a few other differences from the airline version. They were returned to the RCAF when deliveries of TCA's own North Stars began a year or two later.
Regards, Ken

(The information appeared in the "Info Canadian" magazine not the "CPAir News" we have corrected the photo- eds)
---

Jack Stephens had another sad visit with dear old 'Tiggy" at the Pima Air And Space Museum, Tucson, Arizona. U.S.A

Hello everyone,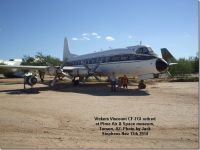 On Thursday, November 13th, 2014, I was in no hurry to find my way through the outside display aircraft, to visit, once again "...the first Viscount to be delivered to North America for Trans-Canada Air Lines". Even though I thought I was prepared to see again what I saw in 2008 and 2010, somehow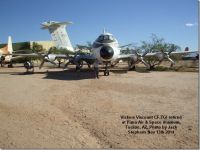 the deterioration appeared to have accelerated. I could be wrong, but she has been baking in the southern Arizona sun for over 30 years, and I suspect closer to 40 years since any quality hangar time. The R.R, Dart tucked under her right wing, has some protection,but to no avail. Not sure why I looked around to see if anyone was looking to find the TCA serial numbers on the Prop Control Unit, the Fuel Pump, Flow Control Unit, and the Oil Cooler. Sentimental I suppose, but then it has been 60 years, since I first saw her, and worked on her engine units. I was a brash 17 year old, and "tiggy" was a youngster. I think we both have weathered a bit and earned the right, to just sit and let things be.

Cheers! Jack Stephens
(Jack is referring to Vickers Viscount CF-TGI c/n 40 fin #601 - eds)
---

Betty Draper found these items in the "Leader-Post" newspaper.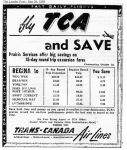 Dated September 22nd 1950, an offer of an air cruise on Sunday the 24th for the grand sum of ca$3.00 a 75 mile flight over Regina and the surrounding countryside. (tca-air-cruise.jpg) and in the September 28th edition this poster for Air fares of the Prairie Service. (tca-fare-poster.jpg)