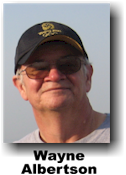 Wayne Albertson is the NetLetter's website administrator and after receiving content from Terry places it all in the newsletter, formats the content and sizes the photos. He also carries out a preliminary check of the content for fomatting, spelling and structure.
Wayne's Bio
I was born and grew up in Montreal, Quebec and relocated to Toronto in 1978. My airline career began in January 1980 when I was hired by Air Canada as a stock keeper in the Purchasing & Supply branch. I spent my entire career working within the same branch although there have been several name changes over the years. We are now called Facilities & Supply and are within the Line Maintenance branch.
The beginning of my career coincided with the introduction of a computerized inventory control system for aircraft parts and other company material. I developed an interest in the inner workings of these systems and enrolled in several courses in computer studies at Sheridan College in Oakville, Ontario between 1989 and 1994. My particular area of fascination has always been database design and management.
I accepted an opportunity to transfer to Vancouver in May 1995 and put formal computer studies on hold but continued to dabble with the "new" technology called the Internet. I quickly became interested in applying my skills to web site design when I met Alan Rust shortly after arriving in Vancouver. We have been collaborating on a variety of projects ever since.
In addition to computer studies I am also interested in the social aspect and camaraderie of "aviation" people. I was the treasurer for the Vancouver ACRA chapter since 1999 and an EAP representative since 2007 until my retirement.
My hobby away from the airline industry is the card game Cribbage. I have been a member of the American Cribbage Congress for several years and enjoy competing in the local club and larger tournaments in the U.S. and Canada. This activity has brought me to several smaller towns in North America and allowed me the opportunity to form many more friendships. My top achievement so far was winning first place in a tournament of over one hundred and fifty participants in Lincoln City, Oregon in May 2013.
I retired as a Line Expediter on January 1 , 2016 just a few weeks short of 36 years of service. Plans for my next career are to continue developing aviation related web sites with the goal of presenting the history and stories of the remarkable people who have shaped the airline industry in Canada.
Wayne
(last updated January 2016)