The Douglas DC-9 decision
While researching the BAC One-Eleven, I discovered some interesting facts regarding TCA's decision to purchase the Douglas DC-9 back in 1963. Terry brought to my attention the Between Ourselves issue No. 264 from December 1963 in which then TCA President G. R. McGregor explains how this difficult decision was reached.
In summary, five aircraft types were in contention when the study began in 1961. The Boeing 727, British de Havilland Trident, the BAC 111, the French Super B Caravelle and finally the American built Douglas DC-9 were all considered.
The choice came down to BAC who had entered discussions with Canadair that would provide $400,000 worth of Canadian Labour and material for each One-Eleven built and the Douglas Company and the de Havilland Company of Canada which provided $540,000 for each DC-9 built.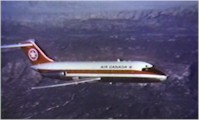 Deliveries of the Douglas DC-9 to Air Canada began in 1966. As discussed in NetLetter #1342 the DC-9 would become the largest (61 aircraft) and longest serving fleet (36 years) in the history of TCA/Air Canada.