Air Canada 'Express'
Today, the 'Express' brand is mostly identified with the group of domestic 'feeder' airlines affiliated with Air Canada.
However, back in the mid-eighties, it referred to the Air Canada Cargo brand. With the arrival of the B-767's to replace the DC-8 passenger fleet, the opportunity arose for the company to enter the fast growing air freight market by converting a total of eight DC-8-60/70's to all-cargo configuration.
When I began my career in 1980, there were a few DC-8-50's in cargo configuration but, if I remember correctly, they were primarily used domestically. I remember that it was quite common, at the start of the graveyard shift, in Toronto 'Stores' to receive a request from Dorval Expedite to run an AOG (Aircraft-On-Ground) part to a DC-8 freighter in the loading process at the cargo terminal before its 23:30 departure for Vancouver; usually for an aircraft scheduled to return to the east in the morning.
The decision to convert the 'Stretch 8's' was a significant investment both in converting aircraft but also in upgrading cargo facilities on the ground. The company's plan was establish a share of the international cargo market. It's difficult to say how successful the plan was.
By the 1990's, the company had begun the process of privatization and the industry was going through many changes. The growth of dedicated airfreight carriers such as Fedex reduced the available market and Air Canada, beginning a period of significant restructuring, gradually left the dedicated air cargo market.
It will be interesting to see how the company progresses with the idea of converting some of the aging fleet of B767's to freighter service. Will it be able to take advantage of the increased demand in air cargo and will it be sustainable in the future?
Attached below are links to two PDF copies of 'Expressly Yours', a newsletter that was published by Air Canada Cargo during the 1980's.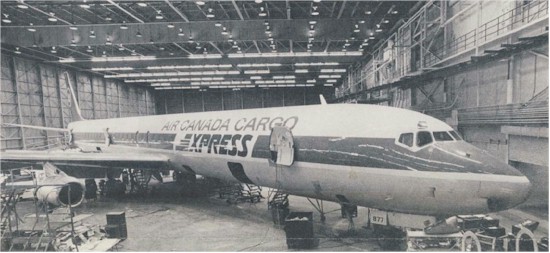 Image caption:
Mechanics at the Dorval Maintenance Base are working around-the-clock to complete over 80 modifications to Fin No. 877. All of our DC-8 Freighters feature an integral, computer-controlled weight and balance system providing flight crews with valuable information when operating in parts of the world where accurate weight and balance facilities may be lacking. DC-8's are the only aircraft in Air Canada's fleet to incorporate this system.
---

Extracted pages from 'Expressly Yours' - May 1987. Click the icon to read the full original story on the conversion.
---

Full copy of 'Expressly Yours' - December 1985. More detailed info on the company's plans for cargo expansion.