A mouthwatering look at what in-flight meals used to be like
(Submitted by: Alan Rust)
It's always fascinating to take a look at the past! For example, you'll be surprised to discover how airplane meals have changed in the last half a century. As it turns out, air travellers had once enjoyed onboard services that were on a par with those offered by top-rated Michelin restaurants! Recently, Norwegian air carrier Scandinavian Airlines has released nostalgia-inducing photos from the 1950s to1980s, showing its passengers dining on crab, lobster, gammon, and caviar.
I've included a few photos from the web page that you can visit here.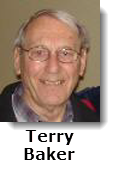 The Government of Canada has introduced a new entry requirement for those travelling to or through Canada who are not Canadian or American citizens, or permanent residents of Canada.
You may require an Electronic Travel Authorization (eTA). For more information, consult www.canada.ca/eta to determine if this requirement applies to you.
---
Terry's Trips Down Memory Lane
During the 1980's my wife and I had many trips to England and, on one of the trips, we were accompanied by a couple, a co-worker who worked in the same office as me (in Dorval) and his wife.
On one memorial trip, we decided to do a pub crawl, not for the drinking part necessarily, but because the accommodations and food were much cheaper than at hotels or motels. Unfortunately, I didn't keep a trip report, so this is from memory, and also not in the sequence of events.
Visiting Shakespeare's home in Stratford upon Avon, the other couple showed their "student cards" and joined a group of visitors already entering the house - no charge! Another time they hocked a camera and then made an insurance claim that it had been stolen when they returned to Canada, not a nice thing to do, but that was how this couple operated.
In Cirencester, there was a fair being set up in a car park and, next morning there was not a sign of the fair having been there. The site was spotless - a message to the locals! To get to one of the pubs, we had to back down a one way street as we had missed a turning. We found that staying in pubs was not the best choice after all, the accommodations and food were OK, but each evening, when the pubs were "turned out" (in those days 10:30 pm) some imbibers would stand around under our bedroom windows and talk in rather high voices, and then, later, there was a drift of voices saying "goodnight Flo", "goodnight Joe" or whatever, as they proceeded to their homes. Next morning at breakfast we arrived to the aroma of stale beer and smoke – yuk!
So we gave in after several pubs, and went into motels. We should have guessed that about my co-worker who, incidentally, looked the splitting image of a mafia "Don" - square on all sides. On one occasion, we were in Lisbon, Portugal for a weekend with a group from our office in Dorval, including the "Don" and his wife. Those were the days of the InterTAP interline 3 day deals with confirmed space. When we checked out, the "Don" dutifully checked the details of his bill and noticed a charge for an ashtray. He immediately took the said ashtray out of his suitcase and declared that he did not want it! The charge was removed.
Future trips did not include this couple who later left Air Canada and joined the United Nations where he received a placement in Rwanda, Africa and then Vienna. On one occasion, we joined a group from the office for a three day weekend in London, England. During our transfer to the hotel, we took a London Transport double decker bus from the bus station to our hotel in Peckham. We all placed our suitcases under the staircase on the double decker bus, and sat down inside. As the bus went around a right-handed corner, a bag flew out from under the stairs - it belonged to one of our party. The owner and I immediately attempted to get off at the next bus stop, but the conductor insisted that we pay the fare and thus delayed our mission of retrieval. Despite asking several people on the street if they had seen this errant suitcase, speeding down the road, no one owned up. We never did find that suitcase which was one with wheels, and presumably was last seen careening down the main road. We made a lost luggage report to London Transport.
The person in question who lost the bag went to a store and bought some necessities and, to rub the mishap in, the hotel assigned the person to a room which was no bigger than a converted cupboard, with no room to swing a cat. After returning to Canada, a letter was received from London Transport to inform the owner of the lost suitcase that some luggage had been found and would they present themselves to identify it - all the way from Canada - no way.